Newlat has implemented a continuous evolutionary trend focused on technological progress, on the improvement of production methods and know-how to ensure its customers the highest standards of quality, safety and excellence.
HIGH QUALITY THROUGHOUT THE SUPPLY CHAIN
Raw materials and packaging materials are thoroughly checked as they enter factories by using physical, chemical, microbiological and organoleptic analyses. Checks are carried out during all stages of production and on the finished product, ensuring full traceability till the point of sale, in accordance with the regulations in force.

LOGISTICS: FRESHNESS GUARANTEE
Warehouse management systems are entirely computerised in order to ensure the proper rotation of finished products, and therefore to ensure freshness and traceability (the F.I.F.O. "first in first out" method is strictly enforced).
The idea is to keep a very limited stock of products in warehouses and to deliver the goods as fast as possible to ensure that products always retain their original freshness.
ALL OF NEWLAT'S VOLUNTARY CERTIFICATIONS

BRC (British Retailer Consortium)
This standard was developed by the British Retail Consortium, which represents the largest British retailers. Its role is to ensure that branded products are produced in accordance with well-defined quality standards. This food safety standard is recognised by the Global Food Safety Initiative (GFSI), an international initiative whose main aim is to improve and promote food safety throughout the entire supply chain.

IFS (International Food Standard)
A food safety standard that is recognised by the Global Food Safety Initiative (GFSI), an international initiative whose main aim is to improve and promote food safety throughout the entire supply chain.

ISO 9001 Quality management systems
Part of a series of international ISO standards, ISO 9001 sets out the requirements for the implementation of a quality management system within an organisation in order to conduct business processes, improve the effectiveness and efficiency of the manufacturing of products and the provision of services, and to ensure and improve customer satisfaction.

ISO 22.000
È uno standard internazionale applicato, sempre su base volontaria, dagli operatori del settore alimentare in materia di sicurezza alimentare e HACCP.

SMETA
This is an ethical third-party audit, carried out on the basis of the SMETA 4 Pillars guidelines (SEDEX Members Ethical Trade Audit) and examines compliance with standards in the context of worker safety, the environment, working conditions and business integrity. It is internationally recognised by members of SEDEX, which is a non-profit organisation dedicated to improving ethical practices and social responsibility within the global trading system. SEDEX has more than 25,000 members in 23 industrial sectors in over 150 countries.

KOSHER
The term Kosher identifies the set of religious rules that govern the nutrition of observant Jews, permitted by the Torah. A Kosher certified product meets extremely stringent quality standards, including all production and packaging procedures, as well as every single ingredient used, which must comply with the restrictive Kasheruth laws.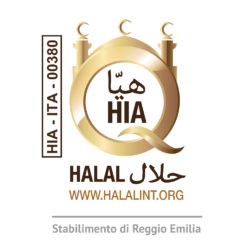 HALAL
This is a voluntary certification for high-quality Made-in-Italy products that comply with the Islamic rules for what is "permissible" (Halal) within the agri-food industry and other sectors. The Halal certification guarantees that the certified product complies with international Halal standards as well as with the European regulations governing the manufacturing processes subject to certification.

Bio
Production authorizations for export to particular countries
Authorization for production and export to CUSTOM UNION (RUSSIA, BELARUS, KAZAKHSTAN).
Authorization for production and export to CHINA.